Seractil Dolo
Seractil Dolo® 300 mg film-coated tablet - Actively soothing pain
It is recommended for relieving moderate to severe pain.
A painkiller including for headaches containing dexibuprofen as active ingredient.
When you administer Seractil Dolo film-coated tablet, only the active form of the ibuprofen active ingredient will get into your body; thus, the drug load to you body is more favorable.
Dosage
To treat the symptoms, you should apply the lowest effective dose for the possible shortest period of time.
For adults over 18 years of age and for the elderly: the starting dose is 1 film-coated tablet. Further on, you may take another film-coated tablet if needed, up to maximum 3 times a day.
There should be at least 6 hours between taking each dose of the drug.
For children: Seractil Dolo 300 mg film-coated tablet should not be administered to children or adolescents.
How to use it:
Seractil Dolo film-coated tablet may be taken with meals or unrelated to them.
Active ingredient:
300 mg dexibuprofen in each film-coated tablet.
Presentation:
10 film-coated tablets
Seractil Dolo 300 mg film-coated tablet is a non-prescription drug available in the pharmacy containing dexibuprophen as active ingredient.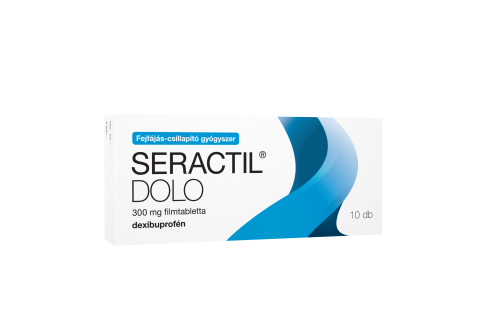 Please, read the complete Patient Information Leaflet (find at the following link) before using the product.
A kockázatokról és a mellékhatásokról olvassa el a betegtájékoztatót, vagy kérdezze meg kezelőorvosát, gyógyszerészét!