Salonpas
Salonpas® - Powerful pain relief patch
Salonpas is a pain relief medicinal patch from Japan, recommended to alleviate
pain in the joints,
strains and sprains,
lower back pain, and
frozen shoulders
Salonpas patch is a high quality Japanese product, developed by the Hisamitsu Company and was marketed in 1934. In Japan, in 90% of the cases, patches are used to relieve pain locally, and creams are used only in 7% of the cases. It can be concluded that in Japan 98 out of 100 consumers are familiar with the brand name Salonpas.
The active ingredients in Salonpas are methyl salicylate, menthol and tocopherol acetate (vitamin E), and camphor. The active ingredients are the extract of natural substances originally derived from plants.
Methyl salicylate is derived from salicylic acid, which has been used in folk medicine for a long time originally extracted from the bark of white willow, it can also be found in several other plants. Methyl salicylate is a non-steroidal anti-inflammatory drug; which effectively reduces inflammation and relieves pain.
Menthol and camphor have an impact on the receptors in the skin reacting to touch, pressure, pain, heat and cold, and they induce some pleasant cool feeling. Besides the non-steroidal anti-inflammatory effect, the mechanism of Salonpas to the skin results in the effect to alleviate pain, relax muscles and improve the circulation of blood.
The advantage of using the patch over the cream is that it provides appropriate distribution of the active ingredients with continuous absorption. Therefore, the amount of active ingredients delivered to the painful area is appropriate. Salonpas patch releases the active ingredients continuously, they are gradually absorbed into the skin over 8 hours. Due to the powerful adhesive substance of the patch, it would safely stay in place during exercise and sports, but can easily be removed when needed . The active ingredients will not be rubbed away or smudged, and your clothes worn over the treated area will not be blotted.
Active ingredients:
methyl salicylate, levomenthol, all-rac-alpha-tocopherol acetate, and camphor.
How to use it:
Remove the patch from the backing film. Apply the patch to the previously cleaned and dried area to be treated and smoothen it on the skin. You should change the patch maximum three times a day, and each patch can be worn up to 8 hours at a time.
Presentation:
Salonpas patches are available in two presentations and two sizes:
20 patches 6 x 4.2 cm in size for joint pain, sprains or shoulder pain
2 patches 13 x 8.4 cm in size for lower back pain
It is a non-prescription medicinal product with the efficacy described in medical literature, which does not qualify as drug.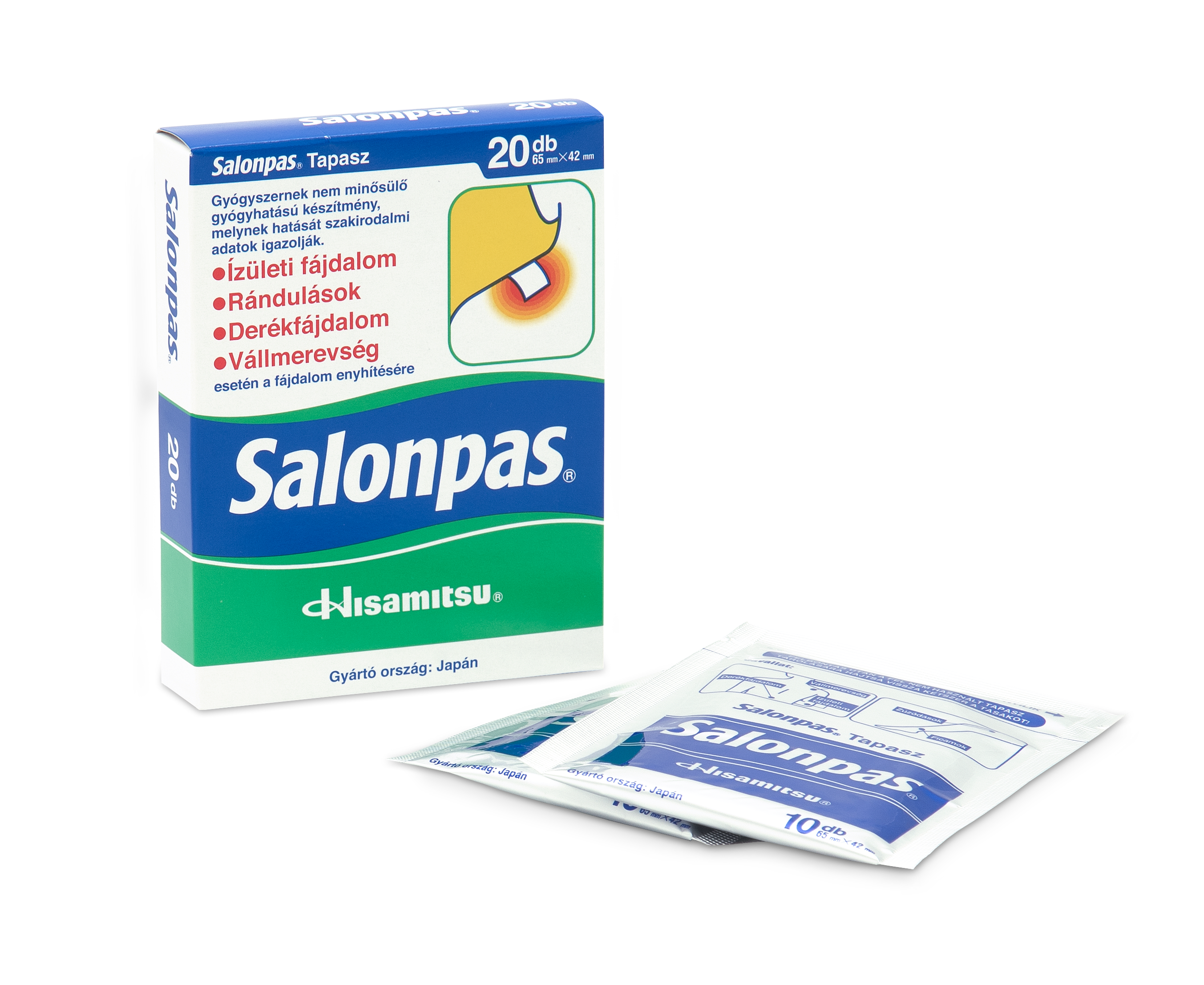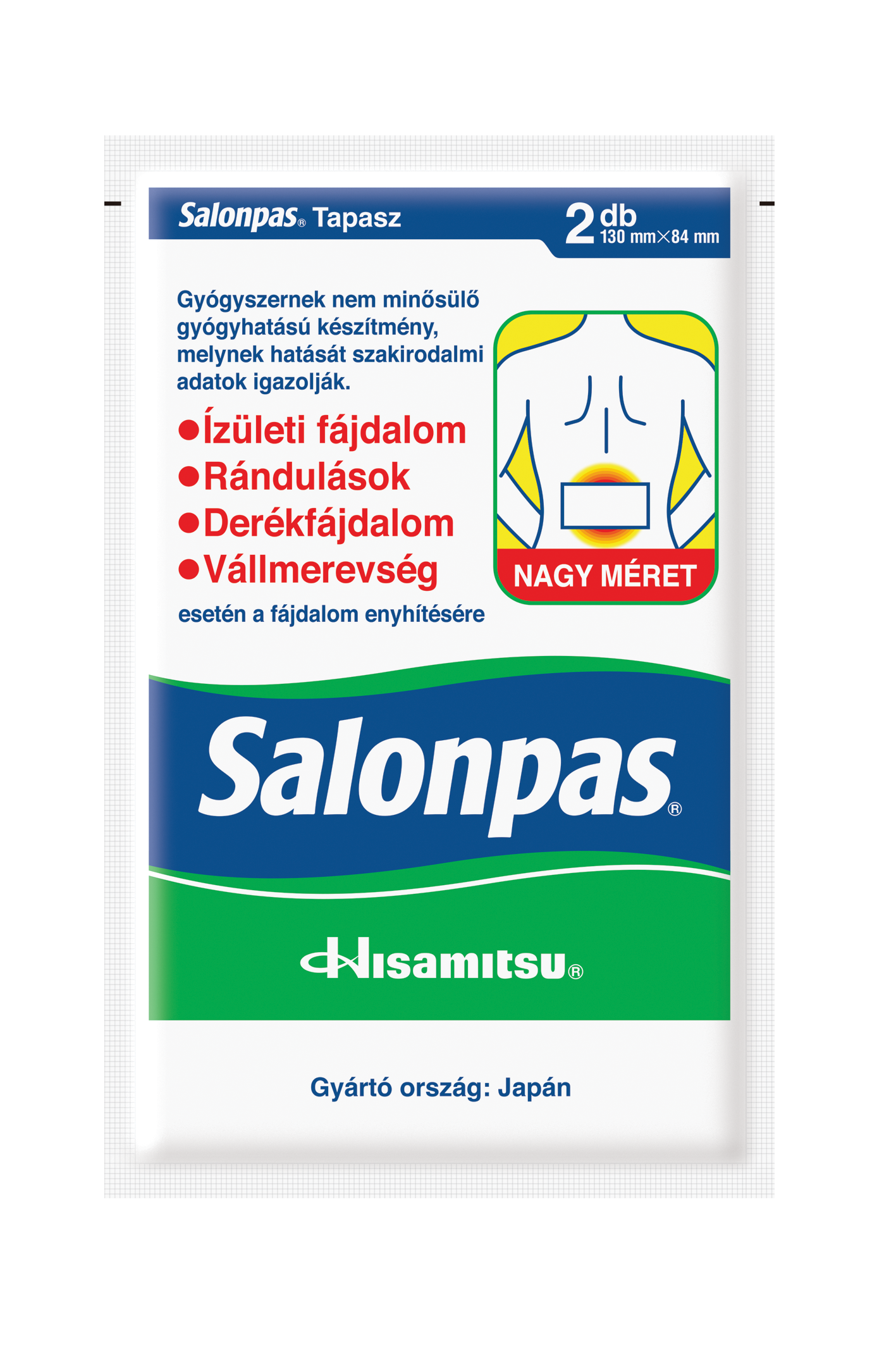 Please, read the complete Patient Information Leaflet (find at the following link) before using the product.
A kockázatokról és a mellékhatásokról olvassa el a betegtájékoztatót, vagy kérdezze meg kezelőorvosát, gyógyszerészét!