Ideos
IDEOS 500 mg/400 IU chewable tablet
Ideos chewable tablet is recommended to be taken to prevent or treat the development of calcium and vitamin D3 deficiency. Calcium and vitamin D3 are essential for bone formation and for normal bone metabolism. Ideos is also recommended as a supplementary treatment in osteoporosis to supply calcium and vitamin D to the body.
Ideos chewable tablet contains calcium carbonate and vitamin D3.
Osteoporosis is a condition where the mass and calcium content of the bones are decreased resulting in increased brittleness and increased risk for pathological and spontaneous fractures.
The bone mass, changes with the age of the person; in young people building processes increasing the bone mass dominate, but in later ages, the rate is reversed.
If cells building the bones (osteoblasts) and cells breaking down the bones (osteoclasts) are out of balance, more pronounced bone loss occurs, which may lead to osteoporosis. It is common, for example, in women in menopause.
Ideos is a product that contains calcium and vitamin D3 essential for the building of bones in the appropriate amount.
Dosage:
the standard dose is 2x1 chewable tablet per day.

Active ingredients:
calcium 500 mg (in the form of calcium carbonate 1250 mg) and cholecalciferol (D3) 400 IU (10 microgram) in each chewable tablet.
Presentation:
2x15 chewable tablets.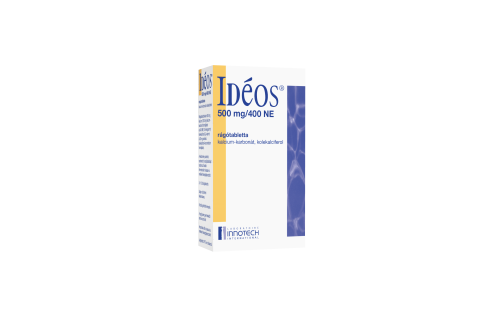 Please, read the complete Patient Information Leaflet (find at the following link) before using the product.
A kockázatokról és a mellékhatásokról olvassa el a betegtájékoztatót, vagy kérdezze meg kezelőorvosát, gyógyszerészét!